Sunday, April 29, 2007

SlugFest 2007
SlugFest was Perry's first venture into baseball competition. He has played baseball for the past 3 years on a parks and rec league. The past 3 summers playing baseball has been about building skills, learning the game and most of all - having fun.
(And of course, let's not forget how cute they look in their baseball uniforms.)
But this weekend Perry learned another skill that can't be taught taking hitting practice. It is a skill that he wasn't even used to...
losing
. And for twelve 8-year old boys, losing can be tougher than learning the game.
On Perry's parks and rec league the past 3 summers, scores were never kept. It's all about giving kids a glimpse into the game of baseball. Without the losing. That all begins with kid pitch when they are 9 years old. But from the time he has played t-ball, coach pitch, and now machine pitch, it's all about learning the fundamentals and "fun" of the game.
The first game we played in our first-ever tournament was at 8:00am Saturday morning. Perry woke up at 5:45am that morning, calling out for us. He wanted to make sure we were up. His first words that morning... "Dad, it's time to play ball."
The Comets won their first game. And it was a nail-biter too. The score was tied in the 6th and we had to play 3 more innings to win the game!
Go Comets!

But, the Comets lost their second game at 11:50am which meant we had to play at 9:30pm. That night. After we had played at 8:00am in the morning.

They played tough. They played hard. But the Comets lost their 3rd game and our time in the tournament was over.

"If only we had made one more catch. If only we had one more inning."

"If only" was the saying yesterday evening at dark o'thirty. We would have loved nothing more than to get up early again and watch them play another game the next day. I think as parents we may have even been more disappointed than they were.

But the boys got their taste of competition. And they had a taste of winning and losing. They liked winning a whole lot better. We'll play more two more tournaments this summer, as well as our weekly parks and rec games.

Competition will be in their blood now.

And the camaraderie they built as a team this weekend will be their best team-building skill yet.

A baseball game is simply a nervous breakdown divided into nine innings. ~Earl Wilson
Labels: baseball

posted at
9:45 PM
Comments (2)


Saturday, April 21, 2007

Cashier Comments - Part Two
I know what you're thinking... "Part Two? Where's Part One?"
Well, let me fill you in...
Cashier Comments - Part One happened about a month ago and it side-swiped me so hard and so fast that I couldn't even sit down to write about it. I told Phil what happened as soon as I left the store and he couldn't believe it was said to me either. I couldn't either. And like I said it hit me so hard that I wasn't sure what to do with this statement, so I ignored it. And it went away.
And then it happened. Again. Today.
And I am just blind-sided again.
What makes cashiers want to talk to me? Do I have a look on my face that says "please speak to me and say something that I am not going to appreciate"?
Let me first start with Cashier Number One. A rather tired woman of mid-50's who was beginning to start ringing up my very few groceries as I was tossing them on the belt when she asked all matter of fact like if "I was in their Hyvee 50's Club." I slowly look up from my cart and with a dejected look told her "NO - DO I LOOK LIKE I AM?" To which she answered, no... but then said "but you never know anymore. Most people in their 50's do not look like they are 50 anymore." Yes, that's exactly what she said to me. And to let you in on a big secret - I am not even close to 50! I am 43 and I think look every bit of my 43, if not younger. (Humor me - let me say it - even if you don't believe me.)
And then just yesterday I was shopping at my favorite big red dot store and got in the check-out line. I gave Cashier Number Two all my purchases, but forgot one that was sitting in the cart portion underneath where my purse was sitting. As I was pushing the cart out of the aisle, she asks me if I was going to pay for my shoes. Oh my! I totally forgot about my sandals that I had placed in the cart and apologized over and over that I was planning on paying for them and would not have walked out with them. So she rings up the sandals, and then hands me a coupon at the end of the sale that came out of the cash register - $1 off a bag of Hershey's Kisses. I then give her a smile and say "Oh, I don't think I need any chocolate - I'm already
scatter-brained
enough as it is."
And then she replied...
Wait for it, wait for it...
"Want to know what helped me with my weight-loss efforts?"
I looked at her. Speechless. Remember, I said
scatter-brained.
I don't remember asking her for weight-loss efforts, much less saying anything about trying to lose weight. (By the way, the weight loss efforts weren't helping her at all.)
So I stood there with a blank stare and listened to her tell me about her 53 weeks without soda, blah, blah, blah....
And then I just walked out to my car and dialed up Phil... again. Who again had to endure another one of my cashier dilemmas.
Does anyone know where I can buy a t-shirt that states "Don't Talk to Me" that I can wear when I go shopping? I'm willing to pay big bucks for it right now.
Have you ever had any unbelievable comments by cashiers you don't know? If so, indulge me. Let me know about them. I can't be the only one this happens to!
Labels: weird things

posted at
8:40 AM
Comments (5)


Saturday, April 14, 2007

Welcome Little Girl
My parents called me excited from the hospital at 5:45am this morning. They wanted to inform me that Brad -
my baby brother
- said I needed to come on up to the hospital. Cindy had just received her epidural, and she was already at a five.
I got up fast. I wasn't going to miss being there. I just could not wait to meet my newest niece or nephew.
When we were in the waiting room, after we knew she was ready to start pushing, I received this text message from my brother.
I was hesitant in opening it up because I was truly a little worried that he was going to text me what the sex of the baby was... and I did not drive a half hour to the hospital, in the early morning (with an April snow falling), to find out if I had a new niece or nephew in a test message! But when I opened up my phone, it said...
"It's a Liggett".
We were very excited to know that baby had been born, but we still didn't know whether "it" was a boy or a girl.
About ten minutes later, out walks my brother ready to take us back to meet his new baby.
His sweet baby daughter was born this morning... Ainsley Lynn.
She weighed 7 lbs. 15 oz. and measured 19 inches long.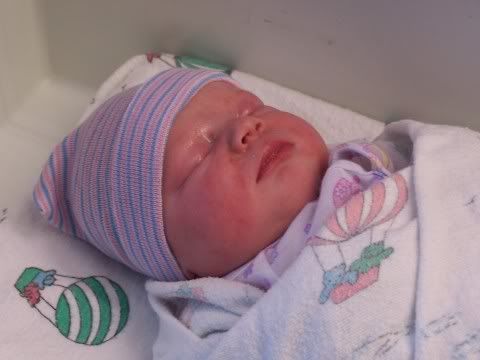 She's a beautiful, healthy little girl who hardly cries at all.
She even yawned a little for us - she's already a bit bored with her new family... or else she's so very used to us all being there and carrying on like that. Nothing new to her! I think she's going to fit right in.
We love this new little addition to the family. Congratulations Brad and Cindy! She's a keeper!
Labels: family; baby

posted at
9:13 PM
Comments (2)


Thursday, April 12, 2007

It's All About The Football

I'm sure the three or four people that read my blog on any type of regular basis know that football is mentioned in at least one post every month or so. And today is another one of those days. So for all you readers (relatives) who just don't get me - and all the football talk - come back again another day. I'm sure I'll talk about something else like my failure in losing weight the last couple months, or the fact that I think spring will never return in our neck of the woods.
Anyway, the NFL football schedule was released yesterday and this day always makes me think back to awaiting a football schedule to be released so that we could plan a date for our wedding.
Yep, that's right - we were engaged in early April and waited close to two weeks to plan the date of our wedding. We knew we were going to be married in the fall - in hopefully October - but we just didn't know which weekend it would be. We needed to know we would not be scheduling our wedding on a Saturday before a home Chiefs game. Because yessiree, Phil would go to the home game on the morning after our wedding if there was one. I'm not kidding. He had not missed a home game for several years, and he wasn't going to start just because he got married to me.
So every year I scour the schedule - almost as if I'm looking for that perfect weekend. The one where we could maybe a take a short mini-break somewhere.
And the schedule didn't let us down this year... they scheduled the bye week right on our wedding anniversary.
Now I just need to figure out where we should go this fall for our anniversary.
(I'm writing this in bold letters just in case one of my readers may be my husband. You just never know when he's going to read this blog!)
On another football note, one of my favorite TV programs - Friday Night Lights - showed its season one finale last night. And I say
season
over and over, hoping and praying it's not the
series
finale.
Are we to write this television show off? I sure hope not. They did not give us an ending last night... they left us hanging. And if they do that, I think they need to return.
Yep, for me - it's all about the football.
New Niece/Nephew Update... My sister-in-law Cindy is dilated to a 2 - but no baby yet. Four people have been crossed out of our baby pool so far... and Perry is getting crossed out tonight if she doesn't have it. And he's not too happy about that. As he stated this morning, he would like for you to get'er done today, if at all possible!
Labels: football

posted at
9:50 AM
Comments (0)


Tuesday, April 10, 2007

"There is Something Weird"
I hear this statement at least four times a week, if not more often.
Perry likes to use this statement to start a topic about something he either (a) doesn't understand, (b) doesn't feel right about, or (c) when he feels a little freaked out.
Tonight for example he used it while we were watching
Dancing With the Stars
. He was watching Karina and Billy Ray talking to the judges and he looked over at me and exclaimed "there is something weird." Fearing the worst, as I almost always do, he then tells me... "Karina has something weird on her head."
Oh, that's it? Good - I can handle this.
So I look up from my book (I'm multi-tasking reading my book club book while watching tv) and she has a jewel embellished on her forehead. It's an interesting look, and Perry then says...
"I think she pierced her head."
"No Perry, she didn't pierce her head. It's only a jewel glued to her head" Only sounding even more weird as I write it.
Updated to add: He said it again around 9:10pm last night when he couldn't get to sleep... "Mom, there is something weird going on in my head."
Oh my goodness, it never stops!
But all this
weird talk
got me to thinking about some weird things that I've thought of over the past week. I'll talk about them... you weigh in.
What is it with Easter and presents? A friend of Perry's this week asked him what he was asking for from the Easter Bunny. What?! We don't believe in the Easter Bunny around here - and he does NOT bring presents. (Boy, I hope his mom doesn't call me soon here.)
I don't know about everyone else, but honestly the most commercialized we get on Easter is dyeing eggs and hiding them, along with a basket filled with Reeses peanut butter eggs and pastel wrapped Butterfingers. There is nothing else... no wrapped presents that appear on the fireplace in the morning, no sitting on the Easter Bunny's lap asking for presents... just candy and eggs.
And giving thanks for our risen Lord and Saviour.
Some Other Weird Things:



1. I love to read, but am having a hard time relaxing enough to read. I'll read at home when I have a free moment, but something always draws me away from it - dishes in the sink, blogs I want to catch up on. I'll even start reading when I get in bed - all cozied up - and then I get sleepy and the next thing I know, I maybe only read 2 pages.

2. The King of Queens was one of my favorite sitcoms in its early days. It is coming to a series finale this May and has been on for nine years. Nine years! Why no fanfare? Remember Friends, remember Frasier? What's the deal?

3. Two Words - American Idol.

I'm over it.

Not watching it. Let me know who wins... and I'm hoping it's not Sanjaya.

4. Our church wasn't crowded on Easter Sunday. You know how usually the church is packed on a couple services each year - Christmas and Easter. Well, ours wasn't. Was it our church? Or was it the fact that people aren't willing to even make room in their Easter Sunday for church anymore? Are they too busy wrapping Easter presents?

Okay, this post was a bit cynical for me. But I'm keeping it real here.
Any thoughts?
Labels: weird things

posted at
9:13 AM
Comments (1)


Wednesday, April 04, 2007

"Root, Root, Root for the

Other

Home Team"
3 Tickets to the St. Louis Cardinal's Game... 94 dollars
Nachos, Hotdogs and Peanuts... 32 dollars
A night's stay at the Hyatt Regency... Hyatt Points
Taking Perry out of school at noon, driving three hours East and watching the
World Champion Cardinal's receive their World Series Rings... Priceless.
They didn't win.
It was a cold April night.
And it even started sprinkling when we first arrived at the stadium...
But the spontaneous night of fun was a great one for us. The new Busch
Stadium is absolutely beautiful and we had a
GREAT
time spending the evening there as a family.
Go Cards!
Labels: family fun

posted at
4:22 PM
Comments (4)


Sunday, April 01, 2007

Our Family Circle
As I mentioned
here
and
here
, I married a man who came with a former family. A very large former family. And I met them very early in our dating life. I used to call them "Phil's football family" for lack of better explanation.
Phil and I had only been on our second or third date when he decided that it was time that we talk about his extended family. He was married at a very young age to Chris and following some very rough years, their marriage crumbled. Through his marriage to Chris, he had developed very personal relationships with her family... especially her mother, Dodie. Dodie had become the mother to him that he had lost. When he was just 15 years old, Phil's beloved mother Katherine lost her battle with breast cancer , and Dodie lovingly took her place. Along with Dodie came a very large family that loved Phil more than sliced bread. Even after their divorce, he still was very much Dodie's "son."
The first time I ever met the family was at a Chiefs game. I had been given tickets through his work and he took me to the tailgate after the game to meet them. I was so nervous, but after meeting them, I knew why he was still involved with them... they were the most wonderful people I had ever met. And to think they were meeting someone who may even replace one of their own.
Six months after we started dating, Christmas rolled around and we were invited to their house on Christmas Eve. It was a yearly tradition to gather at Sonny and Dodie's house for Christmas Eve.
It is still our family tradition.
He had been doing it since he first met Chris... and things weren't going to change. Remember, this was
his
family.
It was undoubtedly one of the toughest, most uncomfortable things I have ever had to do.
But, they welcomed me.
Chris and I even talked.
And again, I met more and more family and really developed a love for them because they loved Phil unconditionally.
When he asked me to marry him, he wanted to invite all of them (minus one) and I didn't even hesitate. And they
all
came and were seated in the third row just behind his father. They were his family and they were all seated as his family.
Fast forward a few years after we married and we are expecting our first baby. It would be her first grandchild and they were so excited.
Chris threw us a baby shower for the family... yes, you did read that correctly.
(And I threw her one two years later.)
And they invited my family. It was a wonderful day - full of excitement for Grandma Dodie's first grandchild and for Phil being a daddy.
(Phil and his mom Dodie)
This family loves the Chiefs... talks about them all the time, counts down days until the NFL draft, and emails fly back and forth when someone has been signed or cut. Ever since Phil became part of this family, he would sit with Dodie at the games.

Visitor's side, 2nd row, 47 yard line... folks, these seats are down front.

They tailgate before the game with a big crew of the family. 4 hours before the game begins. She is one of the most devoted fans I know. Until just this past year, I would not usually attend the Chiefs games.

She never gave up her seat. Ever.

I would watch from the comfort of my home... first by myself, and then along with Perry. She retired from her seat in the stadium this past year, but it wasn't a full retirement. She still went to at least 3 games... she always gets first dibs.

What is most important to me now is how much bigger that circle can get. I had never been married before, and I must admit that I was rather naive in thinking that families are only made up of humans who share your blood type. Families are made up of people who love you - people who share your spirit - people who share your soul.

Dodie and her family proved that to me.

They are no longer "Phil's football family" as I used to call them. Almost 13 years later, they are now just his family.

They are my family.
Labels: family

posted at
12:55 AM
Comments (2)