Saturday, April 14, 2007

Welcome Little Girl
My parents called me excited from the hospital at 5:45am this morning. They wanted to inform me that Brad -
my baby brother
- said I needed to come on up to the hospital. Cindy had just received her epidural, and she was already at a five.
I got up fast. I wasn't going to miss being there. I just could not wait to meet my newest niece or nephew.
When we were in the waiting room, after we knew she was ready to start pushing, I received this text message from my brother.
I was hesitant in opening it up because I was truly a little worried that he was going to text me what the sex of the baby was... and I did not drive a half hour to the hospital, in the early morning (with an April snow falling), to find out if I had a new niece or nephew in a test message! But when I opened up my phone, it said...
"It's a Liggett".
We were very excited to know that baby had been born, but we still didn't know whether "it" was a boy or a girl.
About ten minutes later, out walks my brother ready to take us back to meet his new baby.
His sweet baby daughter was born this morning... Ainsley Lynn.
She weighed 7 lbs. 15 oz. and measured 19 inches long.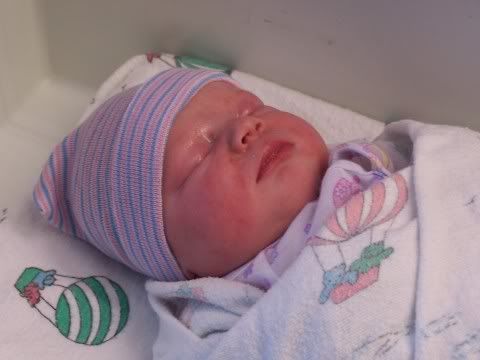 She's a beautiful, healthy little girl who hardly cries at all.
She even yawned a little for us - she's already a bit bored with her new family... or else she's so very used to us all being there and carrying on like that. Nothing new to her! I think she's going to fit right in.
We love this new little addition to the family. Congratulations Brad and Cindy! She's a keeper!
Labels: family; baby

posted at
9:13 PM
Comments (2)